Business opportunities for an aging population: adult diapers
by:UNIHOPE
32899 browse
Time required for reading:2 MINUTES
With the business opportunities brought by the aging population, how to seize the adult diaper market?
Negative population growth has increasingly become a significant trend in global population development, and the accelerating aging process and the low fertility rate are regarded as the main drivers of this trend. According to the latest edition of the World Population Prospects of the United Nations, the average life expectancy of the global population will increase to 77.1 years by 2050, the global fertility rate will drop to 2.2, and the population growth will show an overall slowing trend in the next 10 years. As the basic, overall and strategic supporting element of economic and social development, the directional change of population growth pattern has caused people to worry about whether the economy can continue to grow.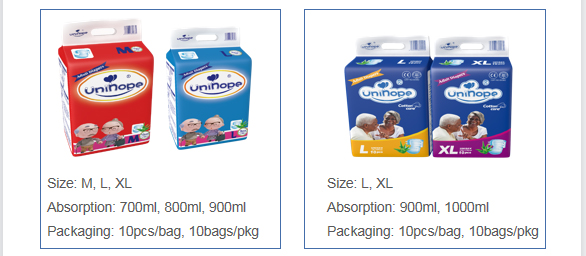 Population ageing has the potential to be one of the most important social trends of the 21st century, affecting almost all sectors of society, including labor and financial markets, demand for goods and services such as housing, transportation and social security, family structures and intergenerational relation.
With the changing demographic structure, the adult diaper industry has entered a period of rapid growth in recent years. From the perspective of the daily necessities market, the growing trend of population aging has promoted the demand for adult hygiene, such as adult diapers, adult nursing pads and other commodities. At present, the market of adult diapers is a market that needs to be developed urgently for different countries and regions. It is a good choice to establish a new business or expand the business scope by establishing a brand of your own, starting to promote sales in your own area, and then slowly infiltrating into nearby areas or even countries.
As professional hygiene products supplier, we have developed kinds of adult care products, including disposable adult diaper, disposable adult pants, and disposable adult nursing pads. Welcome to consult, for more information about adult care products.
Submit successfully
We will review as soon as possible