New Market Trend Of Disposable Baby Pants
by:UNIHOPE
33379 browse
Time required for reading:2 MINUTES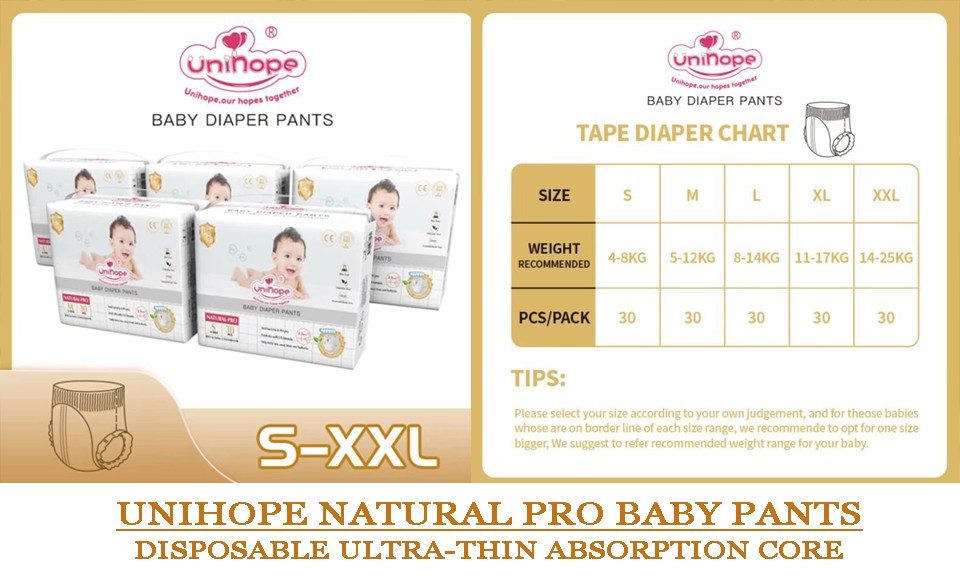 In order to meet the growing market demand, the production technology of disposable baby pull-up pants has become more and more mature, compared to ten years ago. The hottest item on the market is an ultra-thin core body baby pull-up pants.
Keeping dry, breathable, not leaking urine, and locking in odors are the basic needs of consumers. An absorbent core with excellent performance should absorb urine quickly and have a reverse osmosis rate within the standard range to keep the skin fresh and dry. In the process of use, there will be no fault phenomenon due to pressure due to the baby's movement or movement, resulting in leakage of urine, ensuring comfort.
For example, the UNIHOPE NATURAL PRO BABY PANTS, this product is disposable baby pants with ultra-thin absorption core, excellent performance in absorption, and breathable, becomes the one of the most popular disposable baby pants in South Asia, mainly in Malaysia, Singapore, Vietnam, etc.
From a technical point of view, the absorbent core of the core pull-up pants consists of 5 layers of materials. It includes a first layer, a second layer of polymer water-absorbent resin, a third layer of bulky nonwoven fabric, a fourth layer of polymer water-absorbent resin and a fifth layer of bottom layer, characterized in that the first layer or/and the first layer The five-layer bottom layer is wet-strength paper. It meets the requirement of "lighter and thinner" core, and the core remains dry for a longer time, is not easy to reverse osmosis, and effectively reduces the incidence of red butt; continuous layers, the toughness of the core has been amazingly improved.
Judging from market feedback, ultra-thin core pull-up pants are a new trend, and their market share is bound to increase. In a competitive market, timing is an important way to gain and increase your brand's market share. Pay attention to the development of production technology, pay attention to new products on the market, pay attention to market feedback, follow us, and get more valuable information.
Submit successfully
We will review as soon as possible